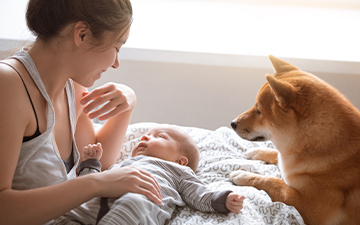 Preparing for the new arrival
Training – a well-trained dog won't jump up at people and should respond to basic obedience commands such as 'sit', 'stay' and 'come'. They'll also walk away when you tell them 'no'.
Changing routines – have a think about how day-to-day routines might change with a newborn in the house. Start introducing the new routine before baby comes home, so your dog doesn't associate the change with the baby's arrival so much.
Time alone – make sure your dog is happy to be left alone for short stretches. This way, when baby comes home and takes up your time, your dog won't feel suddenly neglected and pushed out, but instead can enjoy a bit of peace and quiet in a different room or home alone.
Introduce boundaries – if part of the house will be out of bounds, put this in place long before your baby comes home. This helps avoid dogs associating the baby's arrival with the removal of freedoms. Teaching your dog to stay behind a baby gate or in a crate by encouraging them with treats and praise is a good way to keep them away from the baby, while still allowing them to see what is going on.
Set the scent – bring a muslin cloth or baby clothing home from the hospital to introduce the baby's scent to your dog. Challenge them to sniff from a distance while you hold it, gradually giving them permission to come closer. This helps to start the process of creating boundaries and getting your dog used to the new baby's smell.
Play gyms, prams and more – teach your dog which items belong to them and which belong to the baby, so there's no confusion, and get them used to walking near a pram.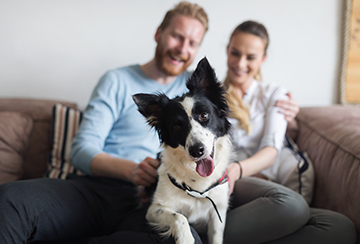 When the big day comes, it's an idea to take your dog out for a long walk or run before baby comes home, or before you introduce your dog if you've had a home birth. This will help your dog use up plenty of energy and bounciness. 
Mum may have been away for a while, so she should come in alone first and greet the dog (who will be excited to see her), while the other new parent brings in the baby. Everyone should stay as calm as possible at this point. Don't bring baby too close – just let your dog sniff from a distance – they should already be familiar with the scent if you've followed the steps above. 
Eventually, your canine companion can get closer, as long as they're calm. Show them the right way to behave, reward good behaviour and remove the dog if they get overexcited. It's a lot for them to take in!
Keep things on an even keel
We know new parents are beyond busy, but giving dogs plenty of attention in these early days helps them to not feel left out or frustrated. It's important to give your dog plenty of love and affection and stick to normal routines for mealtimes and walks. This will help your dog feel more relaxed and secure, and an interactive dog toy will help keep your dog entertained when you're busy with the baby.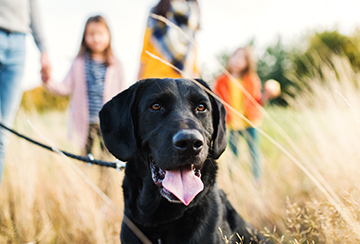 As babies grow and become mobile, it's important to teach them how to interact with family pets. Toddlers need to know not to pull tails or handle dogs roughly, nor should babies be allowed to play with the dog's toys. 
NEVER leave dogs and babies alone together, even if they get on well, even for a few seconds. Supervise them at all times.
Hopefully these helpful tips will lead to a happy household. This article provides general recommendations, but please seek professional advice for more information on how to deal with your individual situation. If your dog is showing any sign of abnormal or aggressive behaviours, or if you have any concerns, remove your dog or child immediately and consult your vet or a dog behaviourist.
MORE FROM YOU & YOUR PETS
Image

Image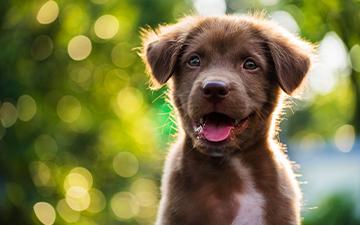 Training a puppy - our top tips
A well-trained dog makes the perfect companion. Get started on your puppy training journey with the pet experts at FRONTLINE®.
Image

Image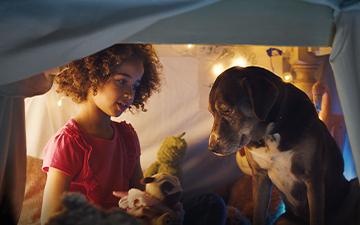 Dog body language: our guide to understanding your dog's behaviour
How many times have you looked at your canine companion and wondered what they're thinking? Here's a quick guide to understanding canine communication.
Image

Image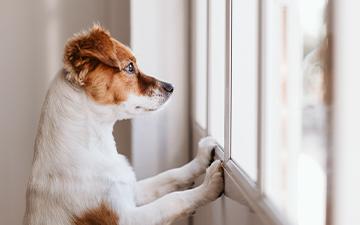 Leaving a puppy alone while you're at work: our top tips
While you may never want to leave your puppy's side, there may be times you need to leave them alone for an hour or two - find out how from FRONTLINE's pet experts
Image

Image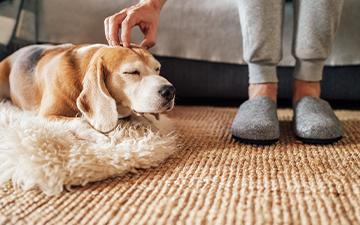 Dog anxiety: how can you keep your dog calm?
If your pup is struggling with anxiety, we're here to help. Discover our pet experts top tips for calming your anxious dog.
Image

Image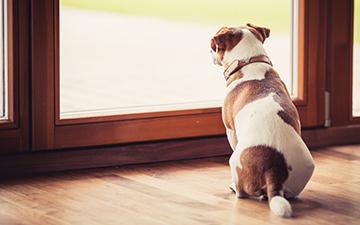 How to ease separation anxiety in dogs: 7 tips that can help
Our dog's love to be around us at all times, which is why they can sometimes suffer from separation anxiety. Our pet experts are here to help keep your anxious dog calm.
Image

Image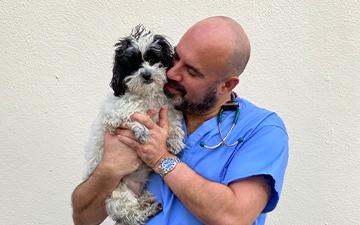 Anxiety in Dogs: How Can You Help? By Marc the Vet
Discover signs and support for anxiety in your dog alongside veterinary expert Marc the Vet, across key annual events and other important topics.
Two Paragraphs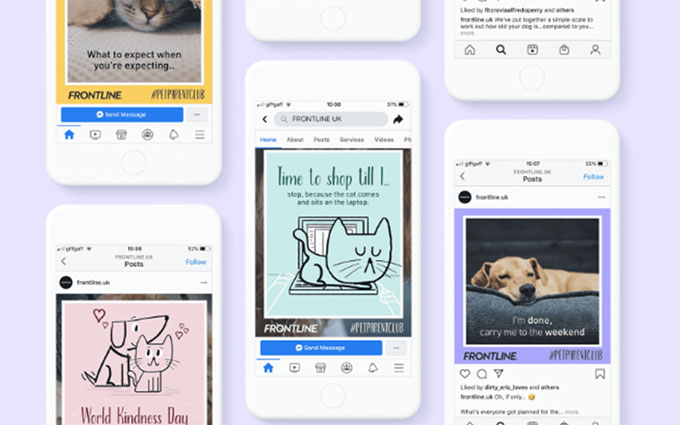 We've got an amazing community of dedicated pet parents on our social channels. You'll find pet care tips and cute pics, plus advice from our pet experts. We can't wait to welcome you to the club!